Expert Heating & Cooling Service In Columbus, OH
Ready for warm winds and cool breezes in your home? Your time is now. Sears Heating & Cooling is your single, spectacular source for all HVAC service, and we stand ready to be your partner in comfort. Whatever questions or concerns you have, we are here to help. We can't wait to hear from you!

Welcome To Comfort! Welcome To Expert HVAC Service! Welcome to Sears Heating & Cooling!
Committed To You
Customer-Focused. Family-Owned. Sears Heating & Cooling Is The Only Help You Need.
With decades of experience in heating and air conditioning and a total commitment to quality, Sears Heating & Cooling has all the tools needed to bring your home the comfort you deserve. With us, you get:
Communication - We answer all questions and walk you through every step of the process.
Respect - We take care of your home as if it were our own, and leave it in better shape than we find it.
Trust - We do what we say we're going to do. We will never tell you one thing and then do another.
100% Relief
Nearly 2,000 & Counting Google reviews at 4.9 stars
A five star review does not begin to explain the experience we had today. To start the first gentleman to come diagnose the air conditioning issue we were having was down to earth and most importantly honest. He gave different options as well as his opinion. After weighing pros and cons we went with the complete new unit. They came out on the day and time as promised. They introduced themselves and we walked them to the basement and they quickly got to work. They wore booties on their shoes (not at our request, but rather a courtesy) acknowledged my children and dogs which is huge to me then went over everything as they were removing and installing. Cleaned up like they were never here, set everything up for us and made sure it was working properly as designed. Huge shout out to SHC and will 100% be recommending to neighbors.
Adding on to my initial review of Sears from my experience last year since it does not appear Google allows me to just add a new review. I will keep this one short since it just reinforces the previous 5-star review I left. Again had an A/C problem after hours (this time a Sunday evening, 6:00ish or so). Called Sears and had the on-call tech paged. He called back so quickly, I almost didn't answer b/c I didn't recognize the number and it didn't click that I would get a call back so fast. Did not go with the after hours call out, but was set up with an appointment the next day. Joel T. was sent out and did a great job in diagnosing the issue. Unfortunately, the issue is not worth repairing b/c of the cost vs age of the unit; however, it can limp along for a little while longer while I thoroughly weigh my replacement options. Joel provided replacement estimates at a few different cost points, understood my need to call around for multiple estimates before deciding, and even called back later in the day to advise the office located one other lower cost option he previously thought was not available. Through all of this, Joel presented everything matter of fact - it was not a high-pressure sale pitch, proclamations of doom and gloom if I didn't commit to replacing right away, etc. Just good conversation about my options through Sears.Last night around 9:45 I realized my A/C was not working. Neighbor recommended Sears Heating and Cooling (not Sears and Roebuck, she made sure to mention). I called and spoke with a very nice lady who advised the on call tech was only on call until 10:00 and offered to page him for me. I was not sure if I wanted to have the tech paged so close to quittin' time, but she assured me it would not be a problem. So, the page went out around 9:57, and I got a call back at 10:00. We discussed the issue and the offer was made to come out in that night, but I declined. The on call tech entered my information and said the office would give me a call between 8 and 10 in the morning to schedule something. At about 8:05 the office called and said someone would be out between noon and 6. Turns out, the tech (Austin) finished up a nearby job around 10:45 and was at my house by 11:00. He quickly diagnosed the problem, presented the repair options, and helped walk me through deciding the route to take. While he advised there were several levels of repair options, he went over the lowest cost one and the next level up with a better replacement part and warranty only. He felt given the age of the unit and the cost after the 2nd repair option, it made no sense to discuss the higher cost options because they just were not worth it.Long story short, Sears Heating and Cooling was very courteous, professional, helpful and better than on time. I am thankful for the neighbor's recommendation and understand why she has used Sears for 20 years. I asked Austin about the service club and he provided very good information about it, presented a valid points on why it is a good idea and recommended I call the office to discuss further if I had more questions. He did not try to push it on the spot, which was appreciated. I have seen other reviews about the cost of Sears, but I have also seen the response that they strive to be competitive, not the most expensive - not the cheapest, but the best value. This is a strategy I agree with, it is not always about being the cheapest...it's about providing the best bang for the buck, and Sear accomplished that for me today. Prompt service, reasonable cost, and most importantly, I am sitting in a cool living room on a hot, humid evening.
Ramon was extremely thorough, knowledgable, friendly and professional!
We Can Do It All
Everything You Need. All In One Place.
At Sears Heating & Cooling, we cover all sides of your HVAC system with professional service and expert care. Read below to learn about some of the specific services we offer: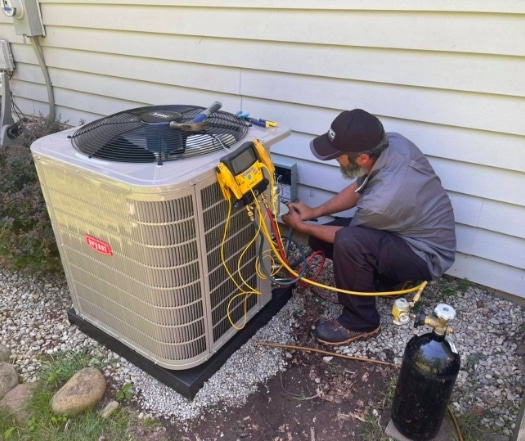 You've Got Problems, We've Got Solutions
Since 1950, Going Above & Beyond For Our Customers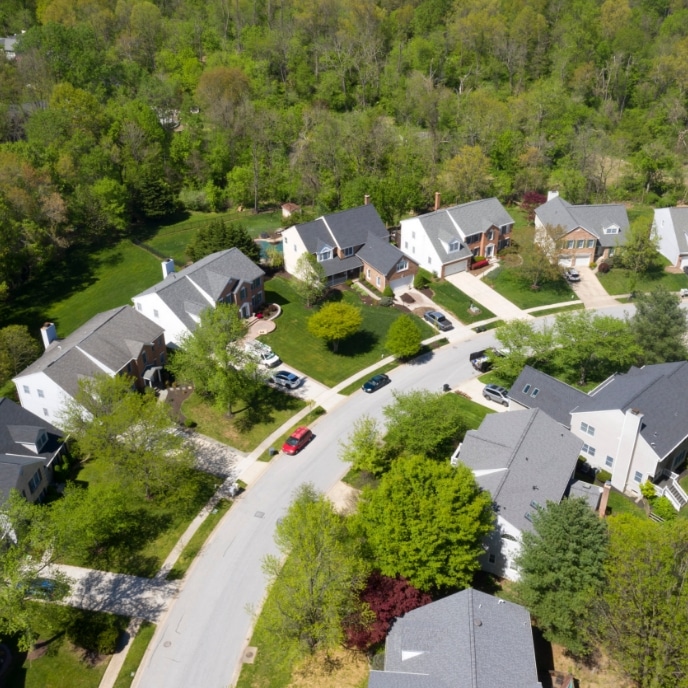 Free Second Opinion
Did another HVAC contractor recommend an expensive repair or replacement for a cracked heat exchangers or compressors; something that seems relatively minor? Give us a call and we'll be happy to provide a free, no obligation second opinion to give you peace of mind.
Get Our Take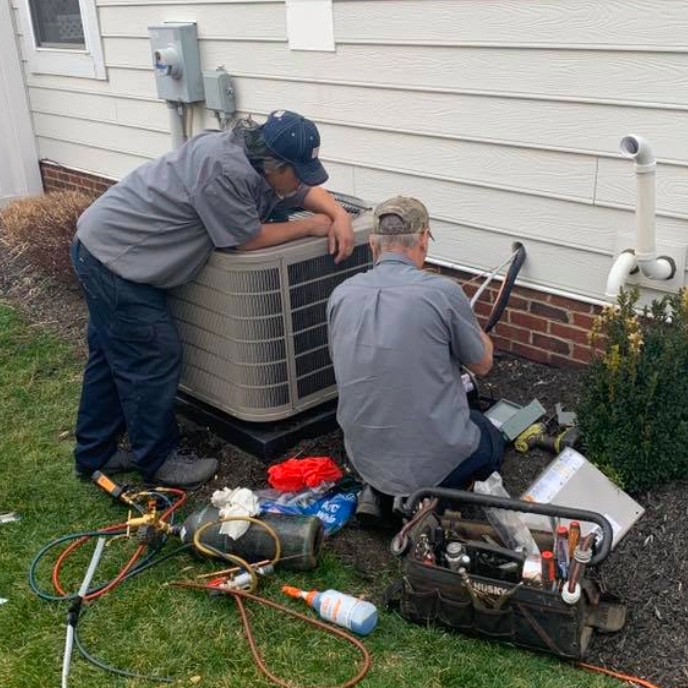 Financing Puts Your Comfort In Reach
We don't believe anyone should have to deal with chilling cold or excessive heat just because money's tight. That's why we offer an array of financing options to help make the work you need done affordable.
Review Options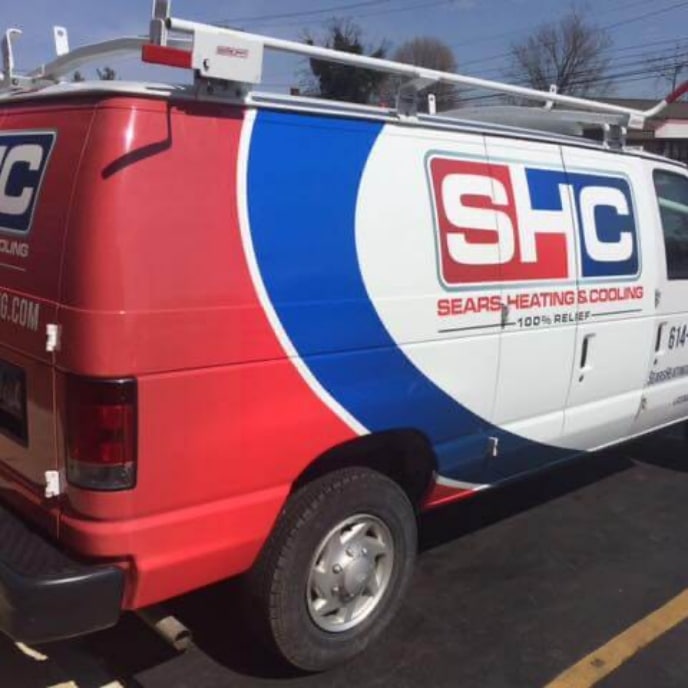 An Experienced Team Working For You
We've been in business for decades for two main reasons. One, our experience and training. Two, our commitment to serving our neighbors as if they were family. Let us bring both of those qualities to handle your HVAC needs!
Who We Are