Why Choose Sears Heating & Cooling for your AC Replacement?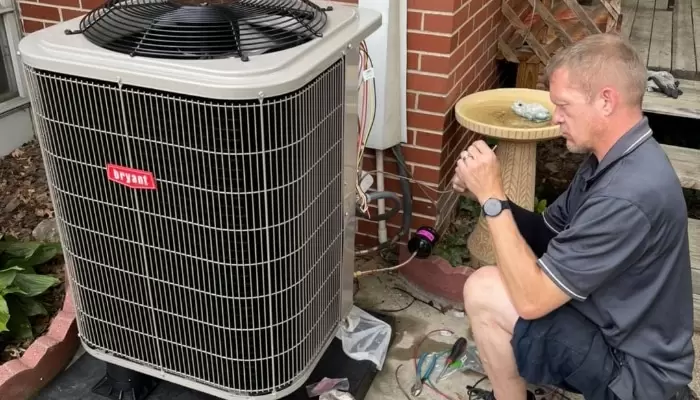 When it comes time for an ac replacement, choosing Sears Heating & Cooling means you get the job done right the first time, at the best possible price in Columbus, Ohio.
By being a family-owned company, we are able to be extremely competitive with our new air conditioner and furnace installation prices. Also, we make the installation process seamless, from financing all the way through the final inspection.
We are one of the highest-rated and recommended HVAC companies in Columbus, Ohio.
Check out the hundreds of customer reviews we have on Google! We have been providing the highest quality ac replacements and installations since 1950!
What Air Conditioner Brands Do You Install?
We are an award-winning Bryant, American Standard and Comfortmaker dealer. We have multiple unit and system options available from basic all the way up to high-efficient. Check out some of our air conditioner options.
We go over all of the options available to you when you schedule a free estimate.
Do Have Any AC Installation Pictures?
We sure do! Head on over to our before and after pictures page to see firsthand what our work looks like.
We strive to get every last detail of your ac replacement correct. Call us obsessive, but we believe it is what you, as the customer, deserve.
We carefully install your equipment as if we were installing it in our own home!
When Should I Have My AC Replaced?
The question of whether or not you are in need of an AC replacement can be tough, as it truly varies on the situation.
To make things easy, if your unit is 12 years or older, and the cost of an AC repair is more than a couple hundred dollars, you would be better off to just have your air conditioner replaced with a new one.
Old air conditioners run on Freon and this type of coolant is currently being phased out by the government and replaced by Puron, which is better for our environment. With this being said, the cost of any Freon-related repair has skyrocketed from what it used to be.
The entire United States is currently running on reserves and it will no longer be available for purchase at all after 2020.
Reasons To Replace Your Old Air Conditioner
Increase the overall comfort of your home.
Save money on your energy bills (high-efficient HVAC units).
Peace of mind that comes with your new air conditioner's warranty.
If you have questions or want to schedule your installation, call us at 614-475-1800 !
Is it better to repair or replace an AC unit near Columbus?
When it comes to choosing whether to repair or replace your AC unit one straightforward formula you can try is this: simply multiply the age of the unit by the cost of repairs. You should replace it if the total surpasses $5,000. You should also consider replacing the air conditioner if you find yourself repairing the same system over and over. Also, when thinking about replacing your HVAC, age does matter. If your air conditioner is more than 10 years old  it's probably time to replace it.
How would I finance my new AC installation near Columbus?
When you buy from Sears Heating & Cooling, you may take advantage of special financing options through Wells Fargo. Check out our financing page for more details. Financing subject to credit approval.
Let us help you with your AC installation financing options today!