Broken Furnace Need Fixing? Trust The Experts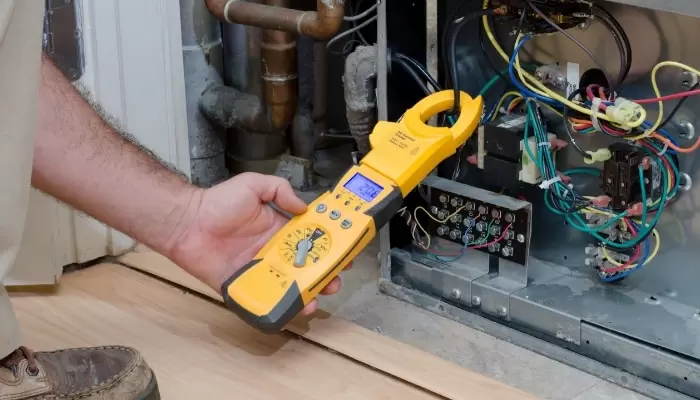 When it comes time for a furnace repair in Columbus, OH, you wouldn't want just anyone diagnosing and repairing your system, you'd want a trained and confident technician with experience. Let us assess your furnace and help plan the work needed to bring the system back to health.
Due to a furnace's balance of efficiency and functionality, there are many specialized tools and skills required to perform routine furnace repair, service and maintenance.
Critical Furnace Components
There are many different things that can cause a furnace breakdown.
Blower Motor
Heat Exchanger
Inducer Motor
Circuit Board
Ignitor
Flame Sensor
With Sears Heating & Cooling, you'll never have to worry about poor workmanship. All of our staff members attend regular seminars and classes to stay up-to-date on the most modern technology available to our industry when it comes to gas furnaces and heat pumps. We promise to be your one-stop-shop for all your heating, furnace and air conditioning needs. With one call, you'll notice the difference. You can also schedule online!
How much does a furnace service call cost?
A furnace service call will typically cost in the range of $49 - $99. This cost will be dependent on:
Expertise - A bigger, more professional company may charge more.
Timing - After hours and weekend calls may cost more.
Get the most out of your service call cost by choosing a furnace service company that will perform your furnace repair, installation or maintenance with five star service--Sears Heating & Cooling. And if you need a second opinion on a broken AC compressor or a cracked heat exchanger, it's FREE.
What brands do we service?
We are a highly-trained and certified HVAC company, which allows us to service any brand of furnace you may have.
When is it time for a repair?
A properly maintained furnace should prevent you from experiencing a costly repair. As soon as you notice a potential issue, contact us instead of putting it off until it becomes worse. It can ultimately save you from a more costly repair in the end. Some common signs that you may be in need of a repair include:
The smell of gas in your home – A gas smell could indicate a problem with your furnace's gas valve.
Strange noises when the furnace is running – Your furnace has different moving parts and as these parts age, noises become more common.
Not heating the home effectively – If your furnace is not keeping your home at the temperature you have your thermostat set to, it may be shutting off prematurely.
The furnace will not turn on at all – Sometimes the unit may not come on at all due to a power issue.
Check out our HVAC troubleshooting tips for some quick help!
When should I replace my furnace?
A properly maintained furnace can last 12-15 years. Issues that signal a furnace replacement may be needed include:
Your unit is 13 years or older.
An extensive repair is needed (heat exchanger, blower motor, etc.)
A repair will cost greater than 50% of the cost of a new unit.
You have had 3 or more major repairs on the unit.
How much does a new furnace cost near Columbus?
There are many factors that will influence how much your new furnace costs in Columbus. A new furnace can typically be installed for between $4,000 to $6,000 depending on brand, size and efficiency.
Sears Heating & Cooling would like to help you out. Take advantage of HVAC financing options as well as any available rebates. Call for more information: 614-475-1800.
How efficient is a 20-year-old Columbus furnace?
Your average 20-year-old furnace is extremely inefficient. Not only has technology improved, but old HVAC systems do not work as well as they originally did.
Want to save on your energy bills and avoid unexpected breakdowns? Then you might want to replace that old furnace sooner rather than later. Check out our page on helpful tips for buying a new furnace.
Do furnaces in Columbus lose efficiency over time?
Yes, furnaces lose efficiency as they age. They run for longer just to provide the same amount of heat. This translates to high energy bills and an increased risk of breakdowns.
Need a furnace replacement? Our experienced HVAC techs can help you determine that answer. Give us a call today at 614-475-1800.