Family Owned & Operated Since 1950!

Sears Heating & Cooling was founded by Johnny and Lillian Sears in 1950. They believed that Columbus needed a reliable heating and cooling company to keep families warm during the harsh winters and cool during the hot summers.
In 1989, the current ownership team was put in place and has continued the same customer focused family friendly philosophy that has allowed us to help customers stay warm in the winter and cool in the summer for over 72 years.
Our longevity speaks for itself and our A+ rating with the BBB and Angie's List backs up our efforts. We are a smart, straight-shooting, family owned company that won't sell you anything you don't need. We also have over 1,500 Google reviews with a 4.9 overall rating! While we are an older company, we also feel it's important to remain current on all new technological advances in our industry so we can offer you the highest level of comfort and dependability for your HVAC systems.
Johnny & Lillian Sears
SHC Founders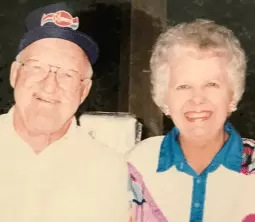 Our Power Is Our People
Sears Heating & Cooling is a customer focused company. We work inside your home and treat it as if it's our very own. We also recognize that when you have problems with your HVAC you need immediate assistance as what we do affects your family's daily lifestyle.
With our local management team we are able to respond to customer needs quickly and efficiently. Our management team is professionally coached to focus on priorities that produce a great experience for our customers. Our field technicians are factory trained as well and provide the level of service and installation that is unsurpassed in Central Ohio.
As an owner-led company, Sears Heating & Cooling serves thousands of Columbus-area customers each year. We believe that enthusiastic employees who are respectful and treat our customers like family is the right way to manage an in-home service company.
Culture & Core Values
Sears Heating & Cooling and every employee is instilled with the mission of treating every customer like family. From the first impression to the time we finish our project, our attitude will reflect that mission. We also believe in leaving your home in better condition than when we arrived. We take great care in every detail. From our uniforms to our shoe covers, our truck appearance to the way we answer the phone, you'll find every facet of our work is designed to focus on you!
You can be assured that we'll do a complete home inspection to uncover any potential problems that may exist, and we'll offer options to help correct them. You'll find in working with us that Sears Heating & Cooling was built on employees with positive attitudes that communicate well and respect the fact that we're inside your home.
We're here to enhance the comfort of you and your family, and our core values reflect that philosophy! Sears Heating & Cooling is located at 3981 Cleveland Ave. in Columbus, Ohio.