Why Choose Sears Heating & Cooling?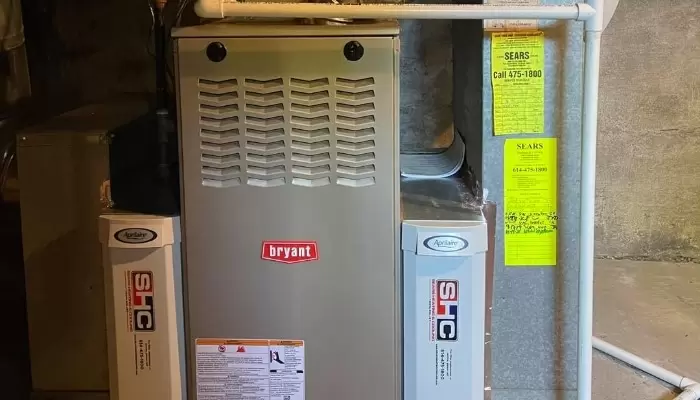 When it comes time for a furnace replacement, choosing Sears Heating & Cooling means you get the job done right the first time, at the best possible price in Columbus, Ohio.
By being a family-owned company, we are able to be extremely competitive with our new furnace and air conditioner installation prices. Also, we make the installation process seamless, from financing all the way through the final inspection.
We are one of the highest-rated and recommended HVAC companies in Columbus, Ohio.
Check out the hundreds of customer reviews we have on Google! We have been providing the highest quality furnace replacements and installations since 1950!
What Brands Do You Install?
We are an award-winning Bryant dealer. We have multiple unit and system options available from basic all the way up to high-efficient. Check out some of our furnace options.
We go over all of the options available to you when you schedule a free estimate.
Can We See Examples Of Your Installations?
Of course! Head on over to our before and after pictures page to see firsthand what our work looks like.
We strive to get every last detail of your furnace replacement correct. Call us obsessive, but we believe it is what you, as the customer, deserve.
We carefully install your equipment as if we were installing it in our own home!
When Should I Have My Furnace Replaced?
Furnaces generally have a lifespan of 12-15 years depending on how well taken care of they are. If you have had maintenance at least once a year on your furnace, your unit could easily live well beyond 15 years.
As a rule of thumb, if your unit is at least 12 years old and a repair would cost more than a couple hundred dollars, you would more than likely be better off just replacing your furnace with a new one.
Old furnaces are susceptible to having cracks in their heat exchangers which can produce lethal amounts of carbon monoxide. Be sure you have a working carbon monoxide detector in your home if you have an older furnace.
How much does it cost to swap out a furnace near Columbus?
A new furnace ranges in price from $1,500 to $6,500, depending on the model. A mid-efficiency furnace installation costs between $1,500 and $2,500 on average. Annual fuel utilization efficiency (AFUE) ratings for mid-efficiency furnaces range from 80% to 89%. They exhaust through masonry or metal chimneys. When you install a new furnace, you may need to upgrade your existing chimney.
A high-efficiency furnace installation costs between $3,000 and $5,000. They have an AFUE rating ranging from 90% to 97%. PVC pipe is used to vent high-efficiency furnaces through the wall.
What is the best month to buy a furnace?
The best time to shop for a new model is in the spring or late summer/early fall. In the summer and winter, most people will be concerned with their heating and cooling systems. Because of the milder temperatures of spring and fall, you'll find lower prices and better weather for the initial setup.
How much does a new furnace and heating system cost in Columbus?
On average, a new home furnace and installation labor cost $4,000 to $6,000 for a standard-efficiency heating system - but can certainly cost more depending on location of installation and equipment. A gas furnace replacement costs between $3,700 and $6,900. The cost of a new furnace is determined by the system size, efficiency, brand, fuel type, and labor to install it. Call to schedule an estimate that would be just right for your home.
Reasons To Replace Your Old Furnace
Increase the overall comfort of your home.
Save money on your energy bills (high-efficient units).
Peace of mind that comes with your new furnace's warranty.
When you're ready for a new furnace, give us a call at 614-475-1800 !