Keep Those Home Fires Burning
A gas fireplace is an excellent way to enjoy the warmth and relaxation of a roaring fire without having to lug in firewood and keep it stoked. But what happens if something goes wrong? At best, it may not work when you want it to; at worst, it could present a real danger to your home due to a potential gas leak or other ignition hazard. When you're in need of gas fireplace repair near Columbus, Sears Heating & Cooling is the only call you need to make.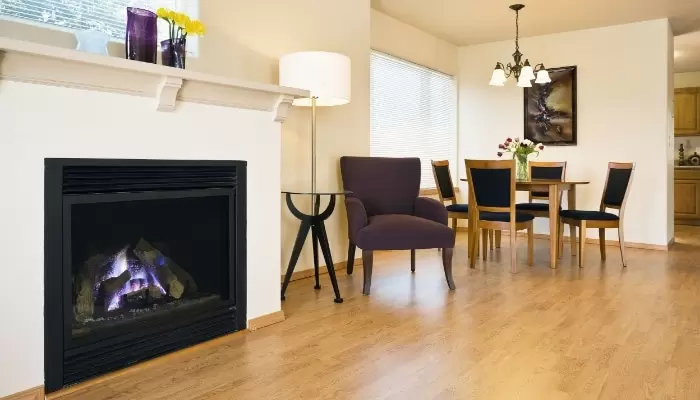 What Brands Do We Service?
Any brand you've got. Our highly-trained technicians are up-to-date on all the latest technology and maintenance procedures, so it doesn't matter what type of gas fireplace you need repaired, we can take care of it. We can take care every brand out there with the same level of professional expertise and friendly service.
How Do I Know If My Gas Fireplace Needs Repair?
Since a faulty fireplace can represent a hazard, it's important to keep an eye out for signs it might be having a problem so you can address the issue early on. Here are some things to look for:
Excessive Soot - If you notice the buildup of soot at your gas fireplace is more than it should be, you'll need to have it checked out.
Pilot Light Issues - Is your pilot light regularly going out? That could point to a problem with the wiring, with the gas lines or potentially worse. Have it investigated.
It Switches On & Off - Once you have your unit running, it should stay that way until you turn it off. If it's making that decision all its own, you need someone to take a look.
Rotten Eggs - If you smell rotten eggs, especially if it's accompanied by a slight hissing sound, you've probably got a gas leak! Get outside to be safe and then call in professionals.
Avoid The Risk, Enjoy The Comfort
Don't let issues with your gas fireplace steal your ability to enjoy cozy warmth or present a safety hazard for your home. If you suspect your fireplace needs repair, contact the experts with decades of experience. Comfort and peace of mind are just a phone call away. Send us a message online or give us a call at 614-475-1800 today!