Your Local AC Repair Service Experts
When it comes time for an air conditioner system repair in Columbus, Ohio, you wouldn't want just anyone diagnosing and repairing your system, you'd want a trained and confident HVAC technician with experience. Let us assess your air conditioner and help plan the work needed to fix it quickly and bring the system back to health.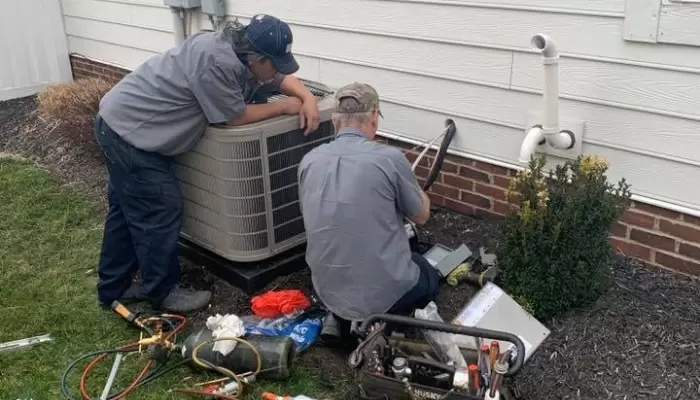 How much does AC repair usually cost near Columbus?
It will usually cost homeowners an average $350-$400 to get their home AC unit repaired in and around Columbus, OH.
Because of the variability of air conditioner repairs, and our dedication to present repair and replacement options for any projects,  standard estimates are nearly impossible to provide. Each AC Repair issue has a unique solution and that will drive the cost (which will be based on the time it takes to repair the cooling system, the cost of the parts needed for the repair, and the complexity of the solution). For minor repairs such as fixing a clogged condensate drain or replacing a faulty capacitor, you might expect to pay anywhere from $75 to $200. More significant repairs, such as replacing a faulty compressor or repairing refrigerant leaks, can range from $500 to $2,000 or more, depending on the job and the cost of replacement parts.
How often should my home AC unit be serviced near Columbus?
Your home AC unit should be serviced at least once a year. It's recommended to schedule maintenance before the cooling season begins in the spring. Regular AC servicing helps ensure peak performance, energy optimization and identifies any potential issues that need addressing. Timely maintenance can extend the lifespan of your AC unit and prevent unexpected breakdowns during peak usage.
How long does it take to fix a broken AC unit near Columbus?
The length of time it takes to repair a damaged air conditioner depends on the nature of the problem and the availability of replacement parts. Minor problems, such as a clogged filter or a tripped circuit breaker, can usually be fixed within an hour. More sophisticated issues, such as a malfunctioning compressor or refrigerant leak, may require many hours or perhaps a few days to rectify. If important components need to be replaced and parts are not easily available, the repair process may take longer. It is preferable to contact a professional HVAC expert for an accurate diagnosis and repair time estimate.
What are the most common AC repairs for Columbus area homes?
The most common AC repairs include fixing or replacing faulty capacitors, fan motors, contactors, and thermostats. Refrigerant leaks and low refrigerant levels are also common issues. Clogged or dirty air filters, frozen coils, and electrical problems like blown fuses or circuit breakers are frequently encountered. Additionally, compressor issues and drainage problems, such as clogged condensate lines, are common AC repairs. Regular maintenance can help prevent some of these issues and keep your AC system running smoothly. If any problems arise, it's best to contact a professional HVAC technician for proper diagnosis and repair.
Comprehensive Columbus, OH Air Conditioning Repair
Our AC repair services include:
Complete system diagnostics and maintenance.
We offer a wide range of repair options to fit any budget.
If your air conditioner needs replacement, we can usually provide you with an estimate for a new air conditioner the same day.
We service these critical air conditioner system components:
Compressor
Evaporator Coil
Refrigerant Lines
Condenser Fan Motor
Outdoor Coil / Condenser
Is Your HVAC System Broken? Do Not Wait for Your AC Repairs.
Annual HVAC maintenance should prevent you from experiencing a costly ac repair in Columbus, Ohio. As soon as you start noticing that your air conditioner may be having an issue, contact us instead of waiting until it gets worse.
Request your air conditioner repairs near Columbus, OH now!
Avoid further damage to your Air Conditioning System: If your air conditioner is not functioning properly, it may be putting undue stress on its components, causing further damage. The longer you delay repairs, the more extensive and expensive the damage could become. By requesting your AC repairs now, you can address any issues before they become more serious.
Stay comfortable in the Columbus, OH Area Heat: Ohio summers can be hot and humid, making it difficult to stay comfortable indoors without a functioning air conditioner. If your AC is not cooling your home effectively or is producing strange noises or odors, it's time to have it repaired - and fast. Prompt repairs can help ensure that your home remains cool and comfortable throughout the summer months. With the slows in the recent supply chain, we want to secure parts immediately and make sure your family isn't stuck sweating.
Improve your HVAC energy efficiency: An air conditioner that is not working properly may be using more energy than necessary to keep your home cool. This can result in higher energy bills, as well as increased wear and tear on your system. By having your AC repaired, you can improve its energy efficiency and save money on your monthly utility bills.
Give your cooling system a longer life: Regular maintenance and prompt repairs extend the life of your air conditioner. Neglecting repairs or putting them off can result in a shorter lifespan for your AC, which can be even more costly to replace. By addressing issues as they arise, you can help ensure that your system lasts as long as possible and spend even less.
Your home and family with thank you for keeping them safe: Faulty air conditioning systems can create safety risks to you and your family. For example, a malfunctioning AC can create electrical hazards, release harmful gases, or cause fires. Getting your repairs completed quickly helps ensure that your system is operating safely and protect your home and loved ones from potential harm. We love to be able to provide peace of mind.
Check out our list of HVAC Trouble Shooting Tips for some quick help!
What Brands Do We Service?
Sears Heating & Cooling is a highly trained and certified HVAC company, which allows us to service any brand of air conditioner you may have.