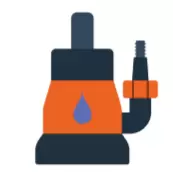 My sump pump is making strange noises. What is going on?
Sump pumps are known to make noise when removing water from around your homes foundation.
When the hard rains fall, it's natural to hear your sump pump making some noise to remove the water that's accumulated around the foundation of your home.
However, there are some sounds that can be concerning and should be investigated.
Grinding Noise
This generally isn't a great noise to hear as it usually has something to do with the motor. If the motor in your sump pump fails, it is no longer of use to your home.
If you are hearing this noise on a consistent basis then it's time to call a professional to take a look as it may be a sign it's time for a new sump pump.
Clanging Noise
This is probably nothing more than the water being removed via the system's piping. Sometimes, the water pipe can hit the basin wall or plastic lid and create this type of sound.
This sound can usually be remedied by wrapping the pipe with insulation.
Running Constantly
If your sump pump is running constantly running, it may not be sized properly for your home, or there may be an issue with the pumps float switch.
Over sized and undersized pumps can cause issues.
If the sump pump is over sized, it will pump more water than the basin holds, overworking it and reducing it's lifespan.
If the pump is undersized, it won't be able to keep up with the amount of water coming into the basin and lead to a possible flooding issue.
In Need Of a New Sump Pump?
Are you ready to replace your old sump pump? Give us a call today at 614-475-1800 and we can get your taken care of as soon as the same day!