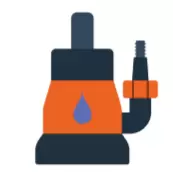 Signs You May Need a New Sump Pump
Your sump pump plays an important role in keeping the foundation and basement of your home dry. Here are some classic signs that it may be time for a new one.
Makes Loud or Strange Noises
Just like any mechanical system, your sump pump has a lifespan.
If you are hearing loud or strange noises coming from your sump pump, it's most likely a sign that it has worn or damaged parts.
The most common failed parts on a sump pump include the motor itself and the impeller, the fan that pulls water into the pump from the bottom.
Runs Constantly
Sump pumps are designed to run only when needed, especially after a large amount of rain falls outside. If you are hearing your sump pump run more than usual, you may have a problem with the float switch.
The float switch is responsible for telling the sump pump it's time to drain the water that has accumulated in the basin. Some of these float switches have plastic brackets that are prone to breaking over time.
If your sump pump runs constantly, it may have a hard time draining the water it is supposed to leading to a possible flooding situation.
Doesn't Turn On At All
I'm sure if this happens you will find out rather quickly once it rains!
A sump pump that doesn't turn on at all could be due to a number of factors from a broken float switch to a failed motor.
Either way, this is something you will want to get taken care of ASAP to avoid your basement turning into a swimming pool.
It's Older Than 7 Years
As previously stated, sump pumps have a lifespan just like any other mechanical equipment in your home.
If you are having issues with your sump pump and it is older than 7 years, it's probably time to replace it with a new one.
In Need Of a New Sump Pump?
Are you ready to replace your old sump pump? Give us a call today at 614-475-1800 and we can get your taken care of as soon as the same day!