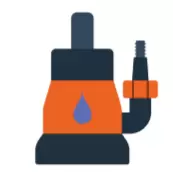 What Do Sump Pumps Do Anyways?
Sump pumps are an important part of your home, especially when it rains!
When the hard rains fall, you can thank your sump pump for keeping your basement from turning into a swimming pool.
What Is a Sump Pump?
A sump pump is a device that is installed in the lowest part of your house, usually a basement or crawl space.
It's entire purpose is to help prevent flooding when water accumulates around the foundation of your home after it rains.
The majority of the time, your sump pump is basically on a standby-mode until it is called into action via the attached float switch.
As water accumulates around your home, it is funneled toward the sump pump basin and it begins to fill with water.
When the water is high enough, it trips the float switch on your sump pump and it begins pumping the water out and away from your home.
Usually, you can see this water draining near the street of a house after it rains. If you live in a rural area, it will usually drain into a nearby retention pond or other nearby storm drain.
What Are The Benefits of a Sump Pump?
Help protect your homes foundation and keep it intact.
Keep your basement drier and more comfortable throughout the year.
Required for homeowners insurance coverage of a basement flood.
Help prevent mold, fungus and mildew growth.
If you have a sump pump, it's important to monitor it over it's lifespan.
There are a few signs that you need a new sump pump that you can look for as the pump ages. A 7-10 year lifespan is average.
In Need Of a New Sump Pump?
Are you in need of a new sump pump? Give us a call today at 614-475-1800 and we can get your taken care of as soon as the same day!