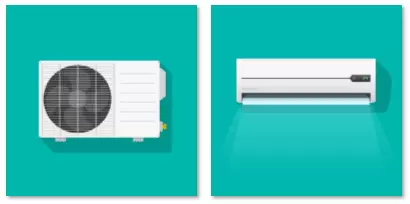 Can I Get an AC To Cool a Single Room?
What are my options to cool a single room vs an entire house? Let's find out!
If you recently added an addition to your home or have a room that you would like to heat and cool on a stand-alone basis, a single room air conditioner may be your best bet. Here are the most popular options.
Ductless Mini-Split System
These things are pretty cool! Not only can they keep a single room of your home cool in the summer, they can also provide it heat in the winter! It's basically a two-in-one unit.
These units are not the cheapest things to have installed, but they can save you a boat load of money as opposed to having to have all new duct work ran to a new room of your home.
The Mitsubishi Mini Split system is a great option for attics and recent room additions to a home such as a sun room or 4-season room.
Standard Window Air Conditioner
Window air conditioners are for the budget friendly consumer. They are generally cheap and can be self installed with not much effort or knowledge.
Window air conditioners come in different sizes for different size rooms.
Obviously, the higher the capacity, the more they cost. Most small units are built to cool a 100-300 sq ft room and the largest units can cool rooms as big as 1,000 sq ft.
You can expect to spend anywhere from $150-$900 on a window air conditioner depending on both size and quality.
Most of these units can be purchased at your local home wares store such as Home Depot.
Portable Air Conditioners & Heaters
These units are somewhat similar to window air conditioners.
These units can be moved from room to room but must be vented through a window through the included flexible piping. Some of these units are also capable of heating an area.
Small units can cool rooms under 200 sq ft. and larger units can cool rooms 320-600 sq ft.
As far as pricing goes, you can expect to spend between $250-$800 depending on size and quality. These can also be purchased at stores such as Home Depot or Lowes.
Have Questions?
Have any questions about single room air conditioners? Give us a call and we would be glad to help out! Although we do not sell window or portable air conditioners, we can schedule you a free, no-obligation estimate for one of the mini-split systems we sell! Call us to day 614-475-1800!