Proven Quality Furnaces With Proven Quality Installation
You rely on your furnace to keep you warm all winter long here in Columbus, Ohio. We at Sears Heating & Cooling offer quality Bryant installations. No matter what your budget may be, we have a furnace that is right for your home. If you are interested in a certain model of furnace that is not shown, just give us a call!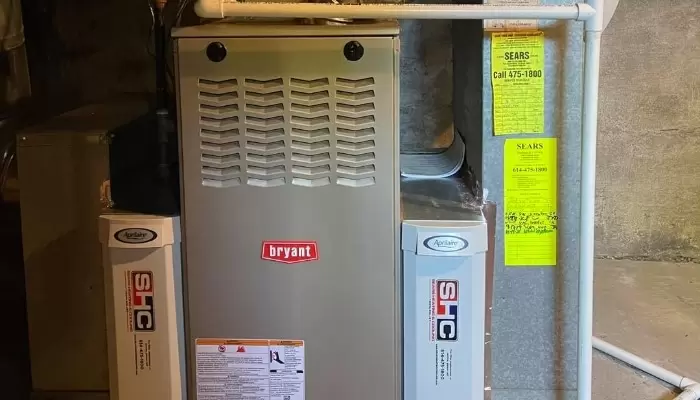 Things To Consider With A New Furnace
There are several important things that should be considered when choosing a furnace that is right for you and your home. These items include:
Size of Furnace
Overall Efficiency
Blower Operation
Gas or Electric
Cost
Furnace Sizing
An improperly sized furnace will not efficiently heat your home and end up costing you more on your monthly utility bills. Furnaces are sized in BTUs (British Thermal Units) which measures how much heat they can produce in an hour.
Overall Efficiency
Gas furnace efficiencies range from 80%-98% AFUE (Annual fuel utilization efficiency).
In an 80% gas furnace, 80% of the gas burned is used to heat your home while the other 20% is lost in the exhaust through your chimney. In a high-efficiency model such as a 98% unit, 98% of the gas burned is used to heat your home with only 2% being lost in the exhaust.
Blower Operation
When choosing the furnace that's right for your home, consider whether you want a single-stage motor or a 2-stage variable speed motor.
With a single-stage motor, the furnace will run at full speed when it comes on and then shut off completely once the temperature on your thermostat is satisfied.
With a 2-stage motor, your furnace will run at low speed when it comes on and then only kick into high gear when truly needed.
This type of operation will save you money on your utility bills due to it not running at full capacity each time the furnace comes on.
Gas Or Electric
The overwhelming majority of furnaces here in Columbus, Ohio are gas furnaces. Unless you live outside of the gas company's service area or possibly have an all-electric home, a gas furnace will always be the more cost-effective route to go.
Electric furnaces can be very expensive to operate especially when temperatures outside become extremely cold.
Cost
A standard gas furnace will usually run you in the $4,500-6,500 range depending on size and brand. If you are wanting to go high efficiency, you can generally expect to spend between $6,000-10,000 depending on size and brand.
How much does a new furnace cost near Columbus?
A new furnace ranges in price from $5,000 to $10,000, depending on the type. Mid-efficiency furnaces have an annual fuel utilization efficiency (AFUE) rating ranging from 80% to 89%. They exhaust through either masonry or a metal chimney. When you install a new furnace, you may need to update your current chimney.
How long do furnaces usually last near Columbus?
The typical lifespan of a gas furnace is between 15 and 20 years. With regular furnace maintenance, you can extend its working life by several years. However, most experts recommend that you begin preparing to replace your furnace when it is 15 years old; this will allow you to budget well ahead of time and not feel the pinch of an unexpected expense.
How do you know when it's time to replace your furnace near Columbus?
Begin by determining the age of your furnace. A furnace's average lifespan ranges from 15-20 years, depending on maintenance and usage.
Next, check your last year of energy bills. A rise in your energy expenses might indicate that your system is performing inefficiently and may be ready for replacement.
Another clear sign that you need a new furnace is if your furnace isn't keeping your home warm enough, even after increasing the temperature at the thermostat.
Finally, if your furnace has needed repairs multiple times in the last few years, it may be telling you that it's nearing the end of its lifespan.
Recommended Models
Best - Bryant Model 987M
97% Efficiency
Better - Bryant Model 926T
96% Efficiency
Good - Bryant Model 310A
80% Efficiency
100% Satisfaction Guarantee
100% customer satisfaction is our goal and we promise to always do what is in the best interest of you, our customers.
We back this entire process with a complete and total *30-day satisfaction guarantee*. If you are not happy with the results of our work, we ask that you tell us specifically what is wrong and we will address your concerns as quickly as possible. Normal warranties still apply. Call 614-475-1800 or email us today. We are here to help.