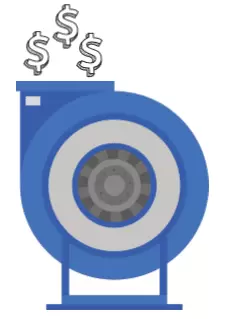 What Is a Variable Speed Blower Motor?
These types of blower motors are designed for efficiency and savings.
How Do They Work?
If you are looking to lower your energy bills, a variable speed blower motor may be a good investment. Variable speed motors move at different speeds as opposed to normal motors that tend to run at only one speed.
With standard motors only having an "on/off" mode, they tend to kick your furnace or air conditioner on many times during the day, wasting energy and increasing the cost to run your system.
By having a variable speed blower motor that automatically controls the amount of air coming out of your vents, you are able to better heat or cool your home to a precise temperature. These motors will deliver just the right amount of air to keep your home comfortable.
Also, if you have a zoning system in your home, a variable speed motor is an excellent option as you are able to customize your comfort.
Save Money
Variable speed blower motors can save you money on your energy bills as they do not consume as much electricity as standard motors.
Cleaner Air & Less Noise
Variable speed motors can help keep the air in your home cleaner. By having them run on lower speeds when not cooling or heating your home, you can have the air in your home recirculated through your filters on a continual basis.
These types of motors are designed to run for extended periods of time so it does not hurt the motor to run continuously.
Also, you will notice that variable speed blower motors are much quieter than their standard counterparts. By slowly ramping up to speed, there is no sudden noises at startup, which can cause some people concern.
Looking For a Quote?
Are you interested in having a variable speed blower motor installed in your HVAC system? Give us a call today and we can come out to get you a price! Call us anytime at 614-475-1800.