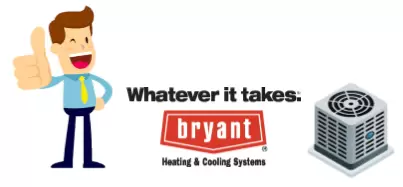 Bryant Air Conditioner Service Since 1950
Providing 100% Relief Since 1950
We have been providing Bryant air conditioner service and 100% relief to our customers since 1950!
Being a Bryant HVAC dealer, we know their equipment inside and out and also have immediate access to any parts you may need.
When you are faced with needing an air conditioner repair, we are your local Bryant dealer in Columbus, Ohio that you can trust.
We will come to your home and diagnose your air conditioner and provide you with a list of repair options to choose from, not just a take it or leave it price.
We understand that each service call we run is unique, from the specific problem all the way to you, the customer.
We strive to offer you the best possible Bryant air conditioner service at the most affordable pricing available.
Bryant Factory Authorized Parts
Sears Heating & Cooling has access to Bryant Factory Authorized Parts to complete your air conditioner repair. These parts are built and designed for your Bryant equipment specifically.
Failure to use factory authorized parts may void your warranty if it is still active.
Bryant Air Conditioner Installations
Looking to have a new Bryant air conditioner installed? Sears Heating & Cooling has the best deals on all of your Bryant air conditioner and furnace needs.
Be sure to check out some of our Bryant air conditioner options!
If you are interested in receiving a FREE, no-obligation quote for a new Bryant air conditioner, call us today at 614-475-1800 or schedule online.