Choosing A New Air Conditioner Can Be Daunting. Let Us Help.
A quality, efficient air conditioner is an essential part of your home during the warm summers in Columbus, Ohio. We offer multiple brands of air conditioners to choose from. If you are interested in a different or specific model, feel free to ask before or during your estimate!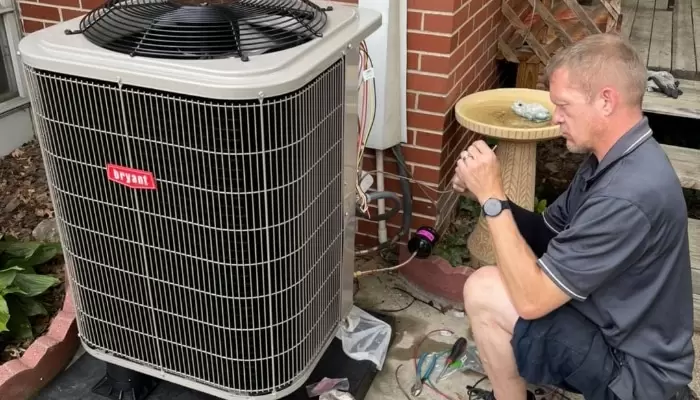 Choosing An Air Conditioner
There are several different factors that should be considered when choosing an air conditioner for your home. The most important items to review include:
The size of your home.
The efficiency of the air conditioner.
Single-stage or multi-stage operation.
Your budget.
The location of the air conditioner.
Size
The size of your home plays a large role in determining the capacity of the air conditioner that you need. Many people believe that bigger is better when it comes to an air conditioner's size and this is simply not the case. In fact, an air conditioner that is oversized for your home will actually run longer and cost you more each month on your utility bills. An undersized air conditioner will also struggle to cool your home as well.
Efficiency
An air conditioner's efficiency is rated by SEER (Seasonal Energy Efficiency Ratio) and ultimately determines how costly it is to run over long periods of time. The higher the SEER rating, the lower your utility bill will be each month.
The lowest SEER air conditioner available is 13 SEER and can go as high as 26 SEER. In Columbus, Ohio, it may not make sense to get an extremely high SEER rated air conditioner as you only use it for a few months out of the year and may not see the return on investment in your monthly utility bills.
Single-Stage Vs Multi-Stage
This relates to the air conditioner's compressor. If you have a multi-stage unit, it will cool your home in 2 different stages, full blast and low speed. The default setting for a multi-stage air conditioner is low and it will crank up to the high speed when it gets extremely hot outside.
Budget
A standard air conditioner will usually be in the $3,330-4,500 range depending on size. If you are looking to go high efficient, these units usually start around $4,500 and go up from there. Subject to approved credit, Sears Heating & Cooling offers several different financing options available to help pay for your investment if needed.
Location
Most air conditioners are installed on the ground outside of the home, but there are rare instances where the unit would be installed on a roof such as an apartment complex or condo. Location is also important depending on the noise level of the unit as well.
Recommended Models
Best - Bryant Model 189
Up to 19 SEER | 13 EER
Better - Bryant Model 127
Up to 17 SEER | 13 EER
Good - Bryant Model 114
Up to 16 SEER | 13 EER
Quality Service Since 1950
Sears Heating & Cooling was founded by Johnny Sears in Columbus, OH in 1950. For over 70 years, we have been servicing Columbus and the surrounding areas, supplying you with the highest quality air conditioner repair, furnace repair and HVAC products. We were founded on the principle of excellence, and to this very day, we have never lost sight of that standard.
How much is a new air conditioner for a house near Columbus?
So many factors go into pricing and pricing changes regularly with the change of labor and manufacturing costs. The typical cost range of installing a central air conditioner unit for a house near Columbus can range from  $5,000 to $9,000 for standard-efficiency systems (and could be even more depending on supply and demand). The square footage of your home, the selected brand and the SEER level you choose are the main factors that influence the cost of an air conditioner. A 2.5-ton air conditioner would be suitable for a 1,300 to 1,600 square foot home, and the average installation cost could be around  $6,500. For the specific costs associated with a replacement unit for your home, please call our office to schedule an estimate.
What size air conditioner do I need for my Columbus area home?
The size of the air conditioner you choose should be determined by the size of the area you wish to cool. You can figure out what size air conditioner you need by multiplying the square footage of your room or residence by 20 BTU. This will give you a rough idea of how large your AC system needs to be, but the most accurate size estimate will come from a professional HVAC specialist. 
Can I finance buying a new home air conditioner near Columbus?
Yes, you can! When you buy from Sears Heating & Cooling, you may take advantage of Wells Fargo's exclusive financing options. Filling out our online credit application is all that is required to finish the process. We have many financing options to suit your needs Inquire about specific details on our webpage under the "financing" tab.