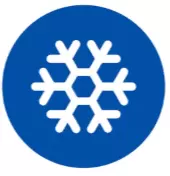 It's Time To Winterize Your Home!
With the cold weather finally starting to set in, now is the best time to winterize you home!
It's that time of year again to get your home ready for the cold winter ahead!
Here are a list of a few things you can do to make sure your home is all set for the upcoming cold months.
Change Your Furnace Filter
The number one cause of HVAC breakdowns is dirt.
By changing your furnace filter on a regular basis, you are saving yourself from needing a costly furnace repair.
Standard one inch filters should generally be changed every 30 days.
If you have a thicker media filter, they can usually last 6-12 months. Filter lifespans depend on the home however.
If you have several pets, you will find yourself needing to change the filter more often.
Check Your Thermostat
Check your thermostat to ensure proper operation.
If your thermostat takes batteries, it may be worth putting a fresh set in now to save yourself from a dead thermostat.
Verify the furnace kicks on in heating mode as well so you're not surprised if it doesn't work when you need it.
Check & Replace Weather Stripping
Make sure your furnace doesn't need to work harder than it needs to by checking any weather stripping in your home.
This can usually be found on doors and windows to help keep the cold air out when they are closed.
If you find cracked or wearing weather stripping, be sure to replace it as soon as you can.
This will also help keep your heating bills down during the winter!
Test Carbon Monoxide Detectors
Be sure to test all of the carbon monoxide detectors in your home before starting your furnace up.
If you have a gas furnace, it produces carbon monoxide as it burns off the fuel.
This is usually vented out of your home via your chimney.
However, if your furnace has a bad heat exchanger, this deadly gas can enter your home via your air vents.
Remember, Carbon Monoxide is an odorless, tasteless gas so you will not know it's in the air until you start to feel it's effects.
A high level of carbon monoxide in your home can be a deadly disaster for you and your family.