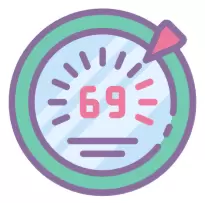 What Should I Set My Thermostat To When On Vacation?
Did you know that you can actually save a considerable amount on your electric bill by turning your thermostat down when you leave for vacation?
What Temperature Is Best In The Summer?
Some people believe that turning your thermostat down to save money is just an HVAC myth.
For many people leaving on vacation, the last thing they are thinking about is there thermostat.
After all, they have more fun and important things to think about doing! However, with no one occupying your home (unless you have pets), there is really no reason to keep the furnace or air conditioner running.
The rule of thumb is to add 4 degrees to what you normally set your thermostat at. Why 4 degrees? Well, if you set the temperature too high, then it will cost you just as much to cool it all the way back down again once you return home. Also, having a home get too hot can damage items such as wall compounds ect from the high humidity levels, which can also lead to mildew growth. Gross.
What About The Best Winter Temperature?
Same rule of thumb applies here. Take 4 degrees off of what you normally have your thermostat set at. Winter can be a bit more dangerous as you now have frozen water lines to think about. The last thing you want to come home to is a flooded house in the winter. Also, it will cost more to re-heat your home once you come back if you set the temperature too low.
What Is a Safe Temperature Range?
For simplicity, be sure to keep you home at least 55 degrees inside in the winter and no hotter than 80 degrees in the summer. With this range, you won't risk pipes freezing and you also won't have any problems with excess humidity in the summer.  If you're looking for some extra safety in the winter, consider having a water leak and freeze detector installed. This handy device will send an alert straight to your smart phone if a water leak or freeze is detected.
Finally, having a programmable thermostat is also handy in situations such as this. Some thermostats, such as the Bryant Evolution can even be programmed and managed from your smart phone while you are away from home!
Did you know?
According to Energy.gov, you can save as much as 10% a year on heating and cooling bills by setting your thermostat back 7-10 degrees for 8 hours a day!
Have Any Other Questions?
Have any other questions about thermostat settings? Give us a call today at 614-475-1800. We love to talk to people! We also have the best service techs and installers in the Columbus ready to help you out if needed.