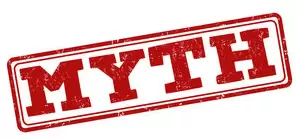 Common HVAC Myths Debunked
Here are some common HVAC myths that simply aren't true!
Myth: The Bigger The System, The Better It Is
This one seems like it would make sense at first thought, but unfortunately, it just isn't true. If you end up having a system installed that is too big for your home, it will likely just cycle on and off repeatedly and cause you higher monthly bills.
Not to mention, a unit short cycling will drastically reduce it's lifespan.
Make sure your system is properly sized for your home and installed by a licensed HVAC professional.
Myth: Close Vents In Rooms Not Used To Increase Efficiency:
Unfortunately, air flow does not work like this. By closing off vents in your home, you are increasing the air pressure within the duct work which can cause leaks at vent seams.
It's always best to keep your vents open and clear from any debris to maximize efficiency.
Myth: The Location Of My Thermostat Doesn't Matter
False. The location of your thermostat matters a lot actually.
If you put it too close to air vents or sunlight, you run the risk of your thermostat giving you false temperature readings and not properly cooling or heating your home.
The best place for your thermostat is on an interior wall away from windows and air vents.
Myth: Routine Maintenance Is Not Necessary
False. Routine maintenance is necessary for you HVAC system just like it is for your car. If you fail have annual maintenance performed by a licensed HVAC company, you also run the risk of losing any warranty you have on your system.
After all, why would a manufacturer warranty a unit that you aren't taking care of?
Myth: I Should Cover My AC Unit In The Winter
False. Although it may seem like a good idea to throw a cover over your AC unit in the fall and winter to protect it from leaves and snow, these covers are actually not good for your air conditioner.
By covering your unit, you are trapping in moisture and speeding up the corrosion process.