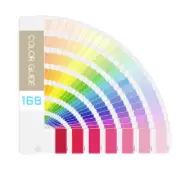 Can Room Color Affect Energy Efficiency?
Looking to keep your house cooler in the summer while using less energy? Choose the right colors!
Believe it or not, the colors you choose for your home can play a role in it's overall energy efficiency.
As expected, darker colors tend to maintain heat and lighter colors help deflect it.
Exterior Wall Colors
If you live in a hotter southern climate, choosing a light exterior color is your best bet.
A light beige, gray or other neutral color give great curb appeal as well as help deflect the suns heat.
According to the Department of Energy, dark colors can actually absorb 70-90% of the suns heat which can then be transferred inside of your home.
Who knew small details such as exterior paint color can really help your air conditioner out during those summer heat waves and prevent any costly air conditioner repairs.
Light colors are reflective and will help cut your cooling costs.
Roof Colors
When it comes to your roof, the material that it's made of plays an important role.
There are actually roof tiles available that are made of a reflective type of paint that can reflect the suns heat.
Standard roof tiles can reach temperatures as high at 150 degrees in the summer.
Cooler roofs with the reflective material can stay up to 50 degrees cooler, saving you energy during those hot months.
Interior Walls
Interior wall colors don't matter quite as much as the exterior.
When it comes to the interior, one of the best things you can do is put to use your window shades during hot days.
Direct sunlight will easily raise the overall indoor temperature of your home.
Also, if you haven't yet, be sure to have your home properly insulated.
This helps keep cool air in during the summer and warm air in during the winter!