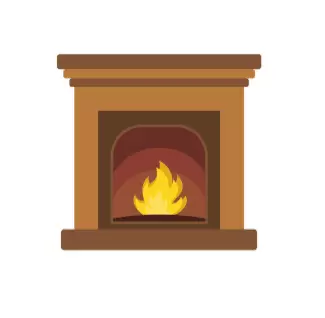 Gas Fireplace Won't Light
A gas fireplace that won't ignite is a common problem among fireplace owners. Let's check out some common causes and options to repair your gas fireplace.
Tripped Breakers
A good place to start would be to check the circuit breaker panel and ensure the breaker for your gas fireplace has not tripped.
When the electrical wiring in your home becomes overstressed with excess electrical current, the breaker will trip to prevent overheating.
Gas Valve Issues
Be sure the gas valve to your gas fireplace is set in the "open" position and that your gas is turned on as well.
This part is usually located in the firebox.
Some older models of gas fireplaces have a key in the wall or floor as well to control the gas valve.
If your gas valve and gas are both turned on, you may have a gas flow problem or the valve itself may need to be replaced.
Pilot Light is Out
This small light is responsible for igniting the gas that is being sent to your gas fireplace.
It is a common issue for a pilot light to go out due to a strong windstorm.
If your pilot light is not staying lit, it's a good idea to check the orifice as it can become clogged with dirt and soot causing it to go out.
If this happens, you will need to purge the air from the pilot tubing with compressed air.
Thermopile or Thermocouple Issue
If your thermocouple is bad, your gas fireplace will not work properly as it operates by electronic ignition.
This small piece is a heat-sensitive device that sends an electrical signal to the gas valve.
It's job is to keep the gas valve open by sending an electrical signal when the pilot light is on.
When the thermocouple fails, the pilot light will not light up.
If your gas fireplace has a thermopile instead, this is nothing more than a series of connected thermocouples.
Because a thermopile generates more electrical current than a thermocouple, a gas fireplace with thermopile can also connect to a thermostat for precise temperature control.
A fireplace with only a thermocouple does not have this capability.
Thermostat Set Incorrectly
If your gas fireplace has a thermostat, be sure that it is set correctly.
Sometimes something as simple as an incorrect setting can cause your fireplace to not work properly.
Because there are so many different brands of fireplace thermostats and remote controls, you will need to consult your thermostat's user guide for specific instructions.