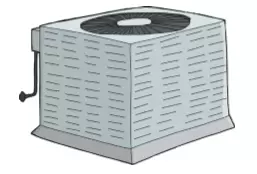 How Often Should I Clean My AC?
Even if you aren't having any problems with your air conditioner, it is still highly recommended to receive annual maintenance by a professional HVAC company.
Warranty Issues
Most manufactures require that annual maintenance be performed on your air conditioner in order to keep any warranties active.
Think of it this way, if you were a car dealer, would you accept a warranty claim on it if the customer who bought it never did oil changes or regular maintenance?
A plus side to this warranty requirement is that you will not have as many air conditioner repairs and increase its overall lifespan as well.
Best Time Of Year
Generally, best time to have your air conditioner maintenance completed is in the spring and early summer months to ensure that it is properly cooling your home.
Most of the time, it is not necessary to check refrigerant levels unless the unit is pointing to a possible refrigerant issue.
Each time a technician hooks up their gauges to your air conditioner, a small amount of refrigerant is released so limiting this process is recommended.
As your air conditioner continually runs, it begins to accumulate dust and dirt even in places you wouldn't expect.
Did you know that dirt and lack of maintenance are the top causes of HVAC breakdowns?
An air conditioner that has annual maintenance performed on it can easily last 3-5 years longer than one that doesn't.
Schedule Your AC Tune Up
Have you scheduled your annual spring air conditioner tune up yet?
We have an annual service plan that covers both your air conditioner and furnace maintenance for only $198!
Contact us today and schedule your annual air conditioner maintenance so you can experience 100% relief all summer long!
How often should a home AC unit be serviced?
Your air conditioner should be serviced once a year, in the spring. This is done to verify that it is clean, that its parts are in good condition and that it is running as efficiently as possible. The reason HVAC specialists plan air conditioner tune-ups in the spring after the weather has warmed up is so they are ready for the heat in the summer.
What maintenance does an air conditioner need?
Air conditioners need to be cleaned regularly to stay in peak condition. The most crucial thing you can do to ensure your air conditioner is clean and performing well is change its filters on a regular basis. Filters that are clogged or filthy restrict the quantity of airflow and, as a result, the efficiency of the system. You can also hose down your outdoor unit every couple months to wash away the built up dirt and dust within, as well as make sure there's no debris within three feet of the unit. Mechanical maintenance tasks should always be done by an HVAC professional.
What happens when my home AC system is not serviced?
Neglecting HVAC maintenance may result in an inefficient system that raises energy costs and causes frequent breakdowns. Additionally, skipping your annual AC maintenance can void your manufacturer's warranty. Set up a schedule or sign up for services with your chosen HVAC firm, and their personnel will notify you when it is time for servicing.