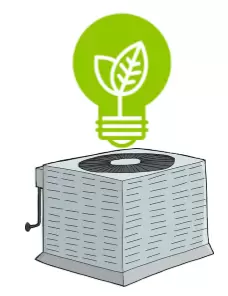 What SEER Air Conditioner Should I Get?
What is a SEER rating and what does it mean to me? Let's find out!
When it comes to air conditioner, a good SEER rating is a term that you may hear thrown around quite frequently. The SEER rating of an air conditioner measures the overall energy efficiency of the unit.
SEER is a measured ratio of the cooling output of your air conditioner over the season, divided by the energy consumed in watt-hours.
Different SEER Ratings
Air conditioners today have a SEER rating ranging from 14 to 21. The minimum value is being updated on a constant basis however by the government. As time goes on, expect the minimum efficiency rating to keep going up (which is a good thing!).
It's important to note however that just because you buy a 14 SEER AC instead of a 21, that doesn't mean you are buying the "bottom of the barrel" equipment.
Assuming you are replacing an old air conditioner, that new 14 SEER AC will be drastically more efficient than your old one.
Also, SEER rating is always rated as a maximum rating, meaning that just because your shiny new air conditioner is rated as a 21 SEER, this means that it is capable of achieving that level of efficiency, it's not operating at a constant 21 SEER.
A great way to think of a good SEER rating is comparing it to the MPG rating on a car. If you floor the accelerator when your drive, it's not going to be getting that 40mpg that's on the sticker!
Other energy saving measures like setting your thermostat back when on vacation can help increase your overall savings.
Is a High SEER AC Worth It?
If you are looking to have the highest energy efficient unit possible, while also lowering your monthly energy bills, the a high SEER air conditioner may be worth it to you.
Although the up front cost of buying a high SEER air conditioner is higher than a lower SEER model, the unit is essentially capable of paying for itself slowly over time. Purchasing a high SEER air conditioner really comes down to your preference and budget.
It is important to note that installing a high SEER air conditioner with a low efficiency furnace or evaporator coil will essentially nix the high SEER value at all. If you are looking for maximum efficiency, you always need to replace your entire HVAC system together.
Looking To Upgrade?
Do you have an old air conditioner and you are looking to upgrade to a higher efficiency unit? Did you know that we offer 100% free, no-obligation estimates for such things? Yep! Give us a call today at 614-475-1800 and we will be over to provide you with all of our different air conditioner options without any of the high-pressure sales garbage.