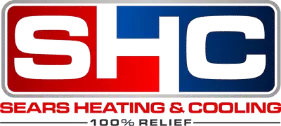 If you own your own home, rental property or business property, there's a good chance that you have one or more HVAC units.
Heating and cooling units go a long way in making sure you're comfortable, so you should do your best to keep them running with top-notch efficiency.
Not only will this ensure that your HVAC unit works well, but it also helps to extend its life.
Here at Sears Heating and Cooling, we specialize in HVAC services.
To help you get the most out of your HVAC unit, we thought it would be good to share a few tips with you on how to properly take care of it.
#1: Hire an experienced contractor
When it comes to HVAC services, they should always be carried out by experienced HVAC contractors. You can rest assured that here at Sears Heating and Cooling, all of our workers are highly-trained to perform HVAC services.
#2: Get regular inspections
Just as with anything in life, such as your car, inspections need to be carried out on a regular basis, and the same applies to your HVAC unit. Regular inspection will help to catch problems before they become severe.
#3: Change the air filters
The air filters on your HVAC unit need to be changed or cleaned once every two months in order to maintain good air quality and operating efficiency. If you don't know how to change them, we can show you.
#4: Clean your air ducts
Your air ducts need to be cleaned once every ten years. Doing this will help to reduce dust and allergens in your home as well as extend the life of your HVAC unit.
#5: Clean your condenser
The part of your HVAC unit that is on the outside of your home needs to stay clean. This means that there cannot be tall grass or shrubs growing up around it. You should also remove leaves and debris that may be stuck in the outer enclosure.
#6: Don't block vents
For optimal efficiency, make sure the vents in your home through which the heat and air flow from your HVAC unit are not covered with clothes, furniture, etc.
#7: Fix problems as soon as possible
If you ever notice something wrong with your HVAC unit, the best thing to do is have the issue fixed immediately. Prompt repair of small problems will prevent larger, more expensive problems down the road.