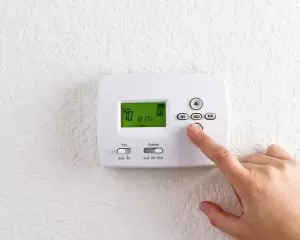 Summer is here and so is higher energy usage.  Did you know that a programmable thermostat can save money on your heating and cooling bill?  By adjusting your thermostat when you are asleep or away from home you will save money automatically without sacrificing comfort.
When using  a programmable thermostat, you can adjust the times you turn on the heating or air-conditioning according to a pre-set schedule.  Programmable thermostats, even smart thermostats that you can adjust from your phone, can lower your energy bills by up to $180 annually. You can also receive a rebate from Columbia Gas when you install a new programmable thermostat.
During the summer, you can keep your house warmer than normal when you are away, and setting the thermostat to 78°F (26°C) only when you are at home and need cooling. Set your thermostat at as high a temperature as comfortably possible and ensure humidity control if needed. The smaller the difference between the indoor and outdoor temperatures, the lower your overall cooling bill will be.
Although thermostats can be adjusted manually, programmable thermostats will avoid any discomfort by returning temperatures to normal before you wake or return home.
There are a number of programmable thermostats available from our manufacturers.  You can find options and learn more here . When programming your thermostat, consider when you normally go to sleep and wake up. If you prefer to sleep at a cooler temperature during the summer, you might want to start the temperature setback a bit ahead of the time you actually go to bed. Also consider the schedules of everyone in the household. If there is a time during the day when the house is unoccupied for four hours or more, it makes sense to adjust the temperature during those periods.
If you have other questions contact us today.