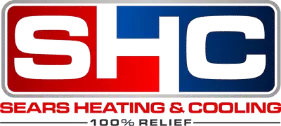 With the warmer summer months comes the sudden up-charge in energy consumption.
While it might be nice outside, remaining cool inside of a home can become expensive, yet often, turning off the AC just isn't an option.
Instead of sweating through the summer without AC or simply accepting the higher energy bills, consider what a professional HVAC contractor like us at Sears Heating and Cooling can do to boost the efficiency of your system.
Best of all, these services also help cut down energy consumption during the winter months.
Air Vent Inspection
It might not sound like much, but vent inspection and maintenance is one of the most important steps in reducing all energy consumption bills.
Throughout the course of a year (or whenever someone last had their vents inspected), pieces can become loose, dirt and debris start to collect, and hardware can begin to break down.
These small air leaks here and there drastically lead to a loss in treated air, which causes a home to suffer much larger energy bills than it should.
Our team can inspect the ventilation system, see where problems are, tighten any loose areas and clean out the vents as well.
This way, not only do homeowners see a drop in their utility bills, but their indoor air quality improves as well.
AC Maintenance
With the AC unit sitting outside, different problems can arise.
The fan might become loose over extended use, weeds might be growing through different elements, slowing down the movement, and simple wear and tear can grind down the service quality of the AC unit.
That is exactly why it is so important to have this equipment serviced annually, especially when living in colder climates.
Over time, the equipment is going to start to wear and break down, and exposure to wind, rain and snow does not always help with this.
Thankfully though, it is possible to cut down on energy consumption by correcting these issues and performing routine maintenance.
This maintenance also prevents major repairs later down the road, which can potentially save homeowners hundreds of dollars on their HVAC system.