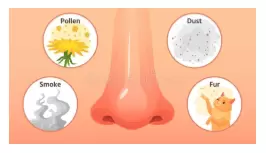 What Is The Best Way To Improve Indoor Air Quality?
With as much time as you spend in your home, the quality of the air you breathe should be important!
Did you know that the air inside your home can be even dirtier than the air outside? Yep, pretty nasty.
Believe it or not, inside a confined space such as you home, dust, dirt, pollen and other particulates continue to build up over time.
Here are some easy ways you can improve your indoor air quality and breathe cleaner, healthier air.
Utilize Nature
Believe it or not, certain plants can help improve your indoor air quality.
These plants absorb particulates as they take in the carbon dioxide in the air through photosynthesis.
Some ferns, palms and mums have all shown to improve the quality of indoor air.
Use an Indoor Air Cleaner
HVAC products such as the iWave-R and the APCO UV Light can cut down on things in the air you might not even see such as bacteria, mold spores and even some viruses.
If you also want to cut down on the stuff you can see such as dust and dirt, the Aprilaire Model 1410 Air Cleaner is a great option.
This MERV 11 rated filter is shown to remove up to 56% of dust, 95% of pollen and even 94% of mold spores in the air.
Clean Your Carpets
This one seems simple enough but it can go a long way in improving air quality.
Believe it or not, the carpet and or rugs in your home act as a large air filter that traps contaminates from the air as they fall to the ground.
Having your carpets cleaned twice a year and vacuuming is a great way to ensure your home's air stays as clean as possible.
Change Your Air Filter
This is the most obvious one we have for you. Be sure to check your furnace filter regularly and change it as needed.
Not only do dirty filters lead to dirty air, an overly dirty filter actually makes your HVAC system work harder than it needs to to cool or heat your home.
A furnace filter clogged with dirty can actually cause your air conditioner to freeze over with ice due to poor air flow.
Looking For Some Professional Help?
Are you looking for a professional, permanent solution to your indoor air quality problems? Give us a call today at 614-475-1800. We would love to help you out!