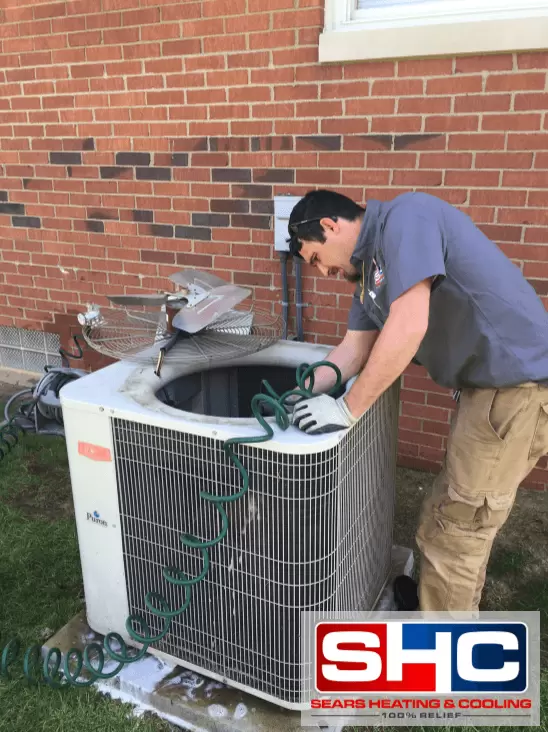 As you know, your heating and cooling system uses more energy than any other appliance in your home.  So, it's very important to maintain these units with professional cleaning and check-ups on an annual basis.
And, keep in mind that dirt is actually the number one cause of HVAC failures. A little bit of cleaning goes a long way toward keeping you cozy.
That's why we recommend a pre-season tune-up before each season of high use.
Your heating and cooling system will run more smoothly, use less energy, and ultimately, keep you and your family comfortable throughout the hot weather.
When you purchase a Service Club Membership you receive:
 professional tune-up of both your air conditioner or heat pump and furnace.
A very important carbon monoxide test at the furnace tune-up.
Priority service- a technician will usually be at your home within 24 hours.
A thermocouple, disposable air filter and coil cleaner.
Discount of 10% on all repairs.
Reduced $49 service charge (normally $79).
With regular maintenance on your heating and cooling system you can expect benefits such as:
Your monthly energy costs are reduced– a well maintained and clean system will operate more efficiently and use less energy.
Peace of mind-you know your equipment is well maintained and operating efficiently.
You save money-receive substantial savings on maintenance checks and repair calls
Extends equipment life– like your car, your heating and cooling system will last longer if it is periodically tuned up.
Reduced breakdowns– Well-maintained equipment has fewer problems
Convenience– We will remind you when it is time to schedule your seasonal inspections.
Priority Service-Your system will be operating and providing comfort without long delays.
Call today or schedule online to become a service club member and schedule your annual air conditioner tune up!