Protect Your Heating & Cooling With Expert Heat Pump Repairs and Installations
When it comes time for a heat pump repair in Columbus, Ohio, you wouldn't want just anyone diagnosing and repairing your system, you'd want a trained and confident technician with experience. Let us assess your heat pump and help plan the work needed to bring the system back to health.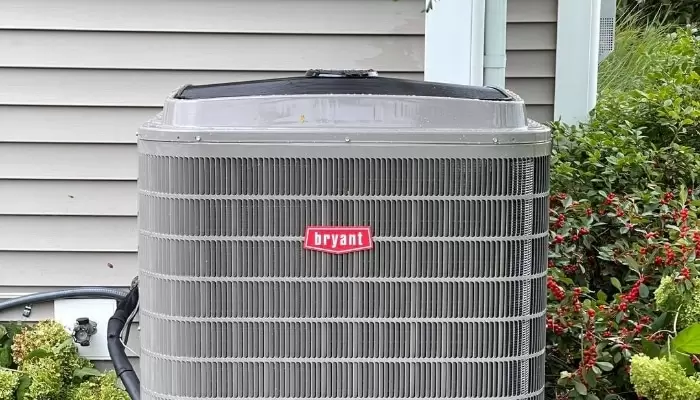 Professional Service, Perfect Comfort
Our Heat Pump Services Include:
Complete system diagnostics and maintenance.
We offer a wide range of repair options to fit any budget.
If your heat pump needs to be replaced, we can usually provide you with an estimate for a new heat pump the same day.
We Service These Critical Heat Pump System Components:
Compressor
Evaporator Coil
Refrigerant Lines
Condenser Fan Motor
Outdoor Coil / Condenser
Air Handler
When Is It Time For A Heat Pump Repair?
Annual maintenance should prevent you from experiencing a costly heat pump repair. As soon as you start noticing that your heat pump may be having an issue, contact us instead of waiting until it gets worse. Acting immediately can ultimately save you from a large repair bill in the end.
What Brands Do We Service?
Sears Heating & Cooling is a highly trained and certified HVAC company, which allows us to service any brand of heat pump you may have.
When Should I Replace My Heat Pump?
A properly maintained heat pump can last 12-15 years. Issues that signal a replacement may be needed include:
Your unit is 12 years or older.
An extensive heat pump repair is needed (compressor, evaporator coil, etc.)
A repair will cost greater than 50% of the cost of a new heat pump.
You have had 3 or more major repairs on the unit.
How much does it cost to fix a heat pump near Columbus?
Instead of attempting to fix a faulty heat pump on your own, consult an HVAC professional. Heat pump repair typically costs between $250 and $600. The actual cost will be determined by the type of heat pump you use and the nature of the problem.
The most frequent source of a problem is an insufficient breaker, which occurs as a result of age and wear. This can be repaired and reconnected for an average cost of $100-$150.
What is the typical lifespan of a heat pump near Columbus?
Since heat pumps are frequently used all year, they do not typically last as long as furnaces and air conditioners. Their average lifespan ranges between 10 and 15 years.
The frequency with which your heat pump is used, as well as whether it receives regular maintenance, are the two most important factors in determining its lifespan. Heat pumps should be serviced twice a year, once in the spring and once in the fall.
What are the benefits of a heat pump?
The benefits of heat pumps clearly show that they are a wise long-term investment. Heat pumps are absolutely worth it if you can save money on your energy bills (the mechanism behind the heat pump simply moves heat from one space to another rather than producing it) and the government could possibly provide you with financial assistance on the installation.
Depending on your current circumstances, the repayment period could be much shorter than the lifespan. This makes it a very worthwhile investment. You may be concerned about the high upfront costs, but you must also consider the big picture. Solar applications combined with heat pumps can help you get to zero net energy.
Why Choose Us For Heat Pump Repair In Columbus?
Flexible Scheduling: Your convenience is important to us. We schedule heat pump repair service appointments when YOU are available. We provide several days and time frames for your convenience. Most of our services are completed on the same day you schedule them.
Nights, Weekends & Holidays, We Are Available For Emergency Services: We don't fit the Monday through Friday, 9a.m.-5p.m. schedule. We have found that 43% of problems for heat pump systems occur after 5 p.m. In the unfortunate event that your heat pump system breaks down after hours or on weekends, we're available for emergency service.
Up Front Pricing: Our services have set prices that depend on the job, not the time we invest into it. As soon as your heat pump system is diagnosed, you will be provided several options for the repair, before the repair has begun. We will honor that price, regardless of how long the repair takes. It's only fair, and our customers appreciate it!
Our AC Repair Services Are Guaranteed: Each repair is backed by a warranty. If you are a member of our Service Club, we will provide you with a 10% discount on any repairs.
Customer Respect: We will respect you, your home and all of your property while servicing your heat pump. All of our technicians are trained to treat your home like their own. This means shoe covers are always worn, to make sure your home stays clean.
Presentable Service Technicians: Presentation is important to all of our technicians. They take pride in the Sears Heating & Cooling uniform. That is why they are expected to look presentable while completing services in your home.
Security & Safety: Each of our technicians is thoroughly background checked and frequently drug tested. When they are servicing your heat pump, they will be wearing identification badges that will give you peace of mind in knowing that they are Sears Heating & Cooling representatives.
Intensive Training: We ensure that every one of our heat pump service technicians has multiple years of experience. They are required to attend reoccurring training sessions. This is how they continue to attain the knowledge they need for new equipment and new installation techniques.
Fully Stocked Trucks: Each heat pump technician comes prepared with all of the tools, parts and equipment that they will need to complete your heat pump repair. This is to make sure that the job gets done quickly without unnecessary trips to a supplier or back to the shop. This is one of the ways we avoid wasting your time.
Complete Customer Satisfaction: We guarantee 100% customer satisfaction with your air conditioning service or repair. If you aren't satisfied, we will do whatever it takes to make things right.
The Service You Need For The Comfort You Deserve
If your heat pump isn't working the way it should, the experts at Sears Heating & Cooling can take care of it! Contact us online or call us at 614-475-1800 today!