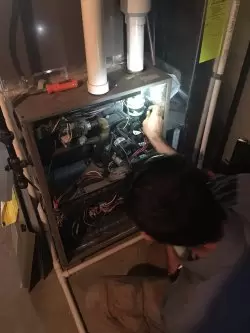 Furnace Repair | Columbus, OH
When it comes to furnace repair in Columbus, OH, you wouldn't want just anyone diagnosing and repairing your system, you'd want a trained and confident technician with experience. Let us asses your furnace and help plan the work needed to bring the system back to health.
Due to a furnace's balance of efficiency and functionality, there are many specialized tools and skills required to perform routine furnace repair, service, and maintenance.
Critical Furnace Components:  
Blower Motor
Heat Exchanger
Inducer Motor
Circuit Board
Ignitor
Flame Sensor
With Sears Heating and Cooling, you'll never have to worry about poor workmanship. All of our staff members attend regular seminars and classes to stay up-to-date on the most modern technology available to our industry. We promise to be your one-stop-shop for all your heating, furnace, and air conditioning needs. With one call to Sears Heating and Cooling, you'll never need to call another HVAC service again. You can also schedule online!
What Brands Do We Service?
Sears Heating & Cooling is a highly trained and certified HVAC company, which allows us to service any brand of furnace you have.
When Is It Time For a Repair?
A properly maintained furnace should prevent you from experiencing a costly furnace repair. As soon as you notice a potential issue, contact us instead of putting it off until it becomes worse. It can ultimately save you from a more costly furnace repair in the end.
When Should I Replace My Furnace?
A properly maintained furnace can last 12-15 years. Issues that signal a replacement may be needed include:
Your unit is 13 years or older
An extensive repair is needed (heat exchanger, blower motor ect)
A repair will cost greater than 50% of the cost of a new unit
You have had 3 or more major repairs on the unit