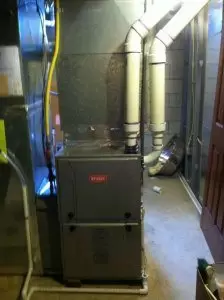 Furnace maintenance will make your system run more efficiently. These tips will teach you about the ins and outs of your heating and cooling system. There are many things you can do to create a healthy, safe, comfortable environment for your family. Here are 6 excellent HVAC maintenance tips to get you started. It is vital to the life your equipment to have regular maintenance care and tune-ups at least twice a year.
Inspect Your Equipment
When is the last time you got your HVAC system inspected? Have an expert inspect your heating and cooling equipment and ducts in the fall and winter.   Listen for strange sounds when your equipment is turned on. Our techs have the knowledge, skills, and tools to keep your machine running smoothly!
Inspect, Clean, and Replace Filters
Are your filters clean? Filters should be checked once a month. If your filters are dusty, your equipment will work harder and it will cost you more money to cool or heat your house. You should replace or clean your AC filters once a month. By cleaning and replacing your filters when you need to, you will make your house healthier and cleaner for your family. At the very least, change your filters every few months.
Clean Your Equipment
Is your heating and cooling equipment clean? A professional furnace maintenance will result in lower maintenance and operational costs. It will improve the efficiency of your machine and reduce discomforts that are associated with sinus problems, aches, allergies, eye irritation, and other respiratory problems. Keep your heating and cooling equipment free of dust. Vacuum your system every few months. Don't keep any clutter near your heating equipment. It's a fire hazard and it will keep your unit from operating efficiently.
Install a Programmable Thermostat
Are your power bills too high? If you want to reduce your energy bills, you can install a programmable thermostat and set it to match your away-from-home schedule. This will save you money every month. Please note that your HVAC equipment accounts for 50 percent of the energy you use in a year. That's why it's so important to keep it running at its peak performance level. Remember that a little bit of maintenance in your heating and cooling system will have a huge impact on your utility bills!
Upgrade Your Equipment
Is your equipment more than 10 years old? Even if it's still working, you might be better off with a new unit. If your heating and cooling system is over 10 years old, you should consider upgrading to an efficient Energy Star model. These high-tech units are designed to keep your home comfortable and save you money.
Get a Yearly Tune-up
Tune up your heating and cooling system once a year. The fact is that the daily wear-and-tear of your system will reduce its efficiency. One of the most cost-effective solutions is a yearly tune-up. Just like a tune-up for your vehicle can improve gas mileage, an annual tune-up of your heating and cooling system will improve comfort and efficiency.  Schedule your furnace maintenance now before the bitter cold of winter arrive.  If you follow these HVAC maintenance tips, your house will be more comfortable and you will need to call for repairs less often!