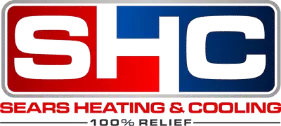 If it's time to replace your old AC unit, you probably have some questions.
Since replacing your air conditioner isn't something you do every day, you'll need to talk to an HVAC contractor to get some answers.
Here's a list we at Sears Heating and Cooling have put together of the most frequently asked questions homeowners have when replacing their HVAC unit.
What You Need To Know Before Installing Your New Air Conditioner
1. How big of an AC unit do you really need?
Most people think they can just replace their old AC unit with the same sized AC unit. Sometimes this is correct and sometimes it's not.
If you have installed new windows and doors or added a new room to your home, you may have to weigh your options.
On the flip side, many people have a tendency to think that putting a bigger AC unit in their home will give them more cooling and better efficiency.
Sounds logical, right? However, that's not always a good idea.
If you put in too large of a system, it will be too large for your space and could negatively affect your air conditioner's ability to control humidity, which will only lead to more problems.
Ask your AC contractor about what size unit he recommends for your home and your circumstances.
2. Should you replace the furnace at the same time you replace the air conditioner?
Usually, when the original AC system was installed, a furnace was probably installed also.
They generally come as a set. But when one of them needs to be replaced, it doesn't always mean you have to replace both of them.
Talk to your local AC contractor for a recommendation. You may want to consider installing a heat pump system.
A Heat Pump is a dual fuel system that heats and cools through the same unit and will help reduce your energy costs.
3. Should you repair it or replace it?
This question can only be answered by a trained professional who has looked at your system.
However, depending on how old your AC unit is, how often your unit runs and where you live, it may be better to replace your air conditioner rather than trying to repair it. If you have one simple part that has gone bad, then of course, a repair would do the trick.
But, if you have an R-22 leak or your compressor has to be replaced, you may be better off replacing your current AC system.
Especially since air conditioners and current laws have gone through so many changes in the last few years, trying to service a unit that is outdated and takes old coolants that are no longer used, could get expensive in the long-term.
Ask one of your local HVAC contractor to look at your AC system and make a recommendation as to what type of unit you should consider and why and what to expect during new ac installations.
Once you have all the facts, you'll be better able to make an educated decision about which route is best for you.
Sears heating and cooling has been providing new ac installations since 1950!