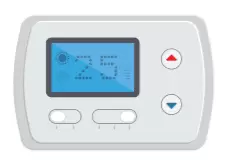 What Kind Of Thermostat Should I Get?
With so many different options available, it may be confusing as to which one is right for you!
Manual Thermostat
You don't see a lot of these thermostats in homes anymore unless the home is older.
Manual thermostats are those old round models with a dial that you have to turn to the temperature you want.
Surprisingly, many people still prefer these old types of thermostats over the newer, more efficient models.
Manual thermostats are extremely easy to operate as there is no programming required, it is more of just an "on/off" switch that sits on your wall.
It's important to note that these types of thermostats are not compatible with many of the new units that are sold today.
If you have one of these old, manual thermostats, chances are your furnace and air conditioner are just as old.
Programmable Thermostats
Programmable thermostats are very common these days and can be found in most homes.
These types of thermostats are considered some of the most efficient due to the programming options it gives you.
Instead of having to keep turning your thermostat on or off at certain times of the day, programmable thermostats can be programmed to hold a certain temperature and then change that temperature automatically at a different time of day.
A great example of this is during the summer.
During the day when it's hot, you can program the thermostat to cool your house to 72 and then die off as night comes. As the cooler night weather comes, your thermostat will automatically adjust itself to accommodate the cooler outside weather and ultimately saving you money in energy costs.
Higher end models can also allow to program for different days of the week ahead of time.
This is great if you are planning on leaving your home for vacation.
Smart Thermostats
These thermostats are pretty awesome.
If you are someone who wants to have the latest and greatest technology available, these thermostats are for you.
Smart thermostats allow seemingly unlimited customization and programming options and also give you the ability to operate and adjust the temperature in your home using your smart phone (iPhone, Android, ect.).
Some of these models even give you the 7-day weather forecast right on the screen of the thermostat!
Aside from being able to adjust your home temperature using your smart phone, you can also receive maintenance and filter change alerts as well as alerts if there is a problem with your HVAC system.
If you are considering getting a smart thermostat, be sure to verify the model that you choose is compatible with your current furnace and air conditioner.
One of the most popular smart thermostats sold today is the Nest Learning Thermostat.