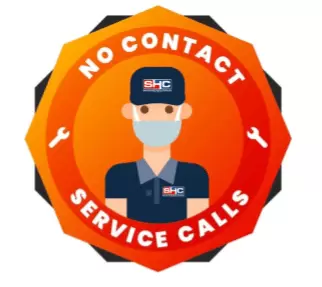 As an essential business per Governor DeWine's order, we remain open and ready to serve you with your heating and cooling needs. When our technicians arrive at your home, they are armed with the tools they need to keep both you and them safe during their visit. These items include:
Face masks
Gloves
Shoe covers

Sanitation chemicals and hand sanitizers
Steps We Are Taking
We have also implemented the following actions to keep our team healthy and safe, so they are ready to serve you each day:
We are monitoring each of our team members health on a daily basis.
Temperatures of employees are taken each morning.
If anyone is sick, they are required to stay home.
Service and installation members will wear protective gloves and masks as needed, in addition to the boot covers they presently wear.
Shared-use devices such as tablets used in the estimating process will be sanitized frequently.
Our management team will ensure that our prevention measures stay current with the Centers for Disease Control and Prevention (CDC) recommendations.
Service Call Precautions
On service calls, we are doing the following:
Remaining outside during routine tune ups of air conditioners. We can certainly get back out to check the inside operation once the stay at home orde

r has been lifted.

Keeping 6 feet between you at all times
Not shaking hands.
If you would prefer to call in payment while our tech is at your home you are more than welcome to do that as well.
Constantly sanitizing all tools, trucks and other equipment we are using at each call we go to.
We pride ourselves on providing top-rated heating and cooling services to the central Ohio community. If you have any special requests, please don't hesitate to reach out to our office at 614-475-1800 ahead of your scheduled appointment.
If you are currently ill, we kindly ask that you let us know and we can certainly reschedule you for a later date and time that is convenient for you.
As we work together as a community to get through these turbulent times, we would like to offer our sincere appreciation to you, our customers. We continue to be ready to serve you.
The Sears Heating & Cooling Team