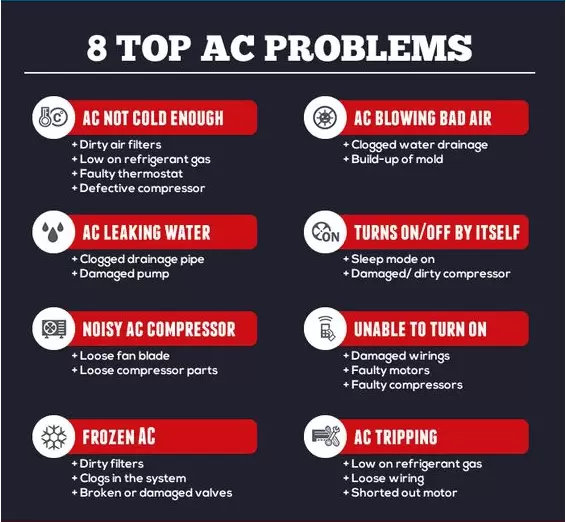 With the heat of Summer in full swing, service calls for a broken air conditioner are an everyday occurrence. Before calling for service, check out this list of common air conditioner problems to see if the issue might be a simple and easy fix. If not, no worries! We are just one call away to give you and your family 100% relief today! Contact us here!
1.) Air Conditioner Not Cold Enough
Dirty Air Filters
Low on refrigerant
Faulty Thermostat
Defective compressor
2.) AC Leaking Water
Clogged drainage pipe
Damaged pump
3.) Noisy Compressor
Loose fan blade
Loose compressor parts
4.) Frozen Condenser
Dirty filters
Clogs in the system
Broken or damaged valves
5.) Unable to Turn AC On
Damaged wiring
Faulty motors
Faulty compressors
6.) AC Tripping
Low on refrigerant
Loose wiring
Shorted out motor
Our Promise
We will listen to you. We will only sell you what you need and at a fair price. We will explain our advice, products and work. We will respect your home and privacy. We will keep your comfort and satisfaction ahead of our own.
We back this entire process with a complete and total *30 day satisfaction guarantee*. If you are not happy with the results of our work, we ask that you tell us specifically what is wrong and we will address your concerns as quickly as possible.  Normal warranties still apply. Call or email us today. We are here to help!