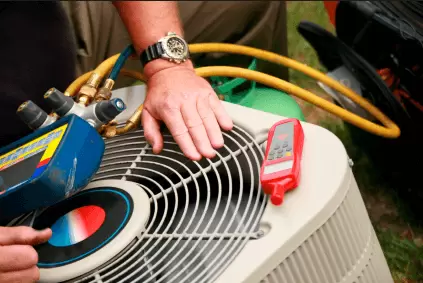 Sears Air Conditioner Repair Tips
Having a problem with your air conditioner or furnace? Before giving us a call for an air conditioner repair or furnace repair, check the following items to prevent a possible service charge.
Check the circuit breaker to make sure there is power to the Air Conditioner or Furnace.

If your furnace or air conditioner is not turning on, this would be the first place to start. You may not need an air conditioner repair at all, you just need to flip a breaker switch. That was easy enough!

Check the on/off switch on furnace. Turn it off, then back on.

The on/off switch on your furnace should look like a light switch. It is normally located on the side of your furnace.

Check furnace blower door for a tight fit. If not closed, the unit will not run.

If the door to your furnace is not properly closed, the unit will not run. This is a built in safety feature to prevent someone from possibly injuring themselves.

Check thermostat for proper settings.

Is your thermostat set to cool or heat? Is it even on at all? Do the batteries need replaced? It is worth mentioning that not all thermostats have batteries, but if yours does and you haven't changed them in a while, throw some new ones in there.

Check your furnace filter to make sure it's clean.

You would be surprised how much damage dirt and dust can do to a furnace or air conditioner. Prevent a costly air conditioner repair or furnace repair by replacing your filter regularly with a clean one. Standard one-inch filters should be replaced every 30 days. If you have a media filter (generally 5 inches thick) these should be replaced every 6-12 months as needed. If you have pets, be sure to check your filter regularly as hair can build up quickly on furnace filters.

Make sure the air vents are open in your house.

Something as simple as having the vents closed in a room can cause your house to not cool or heat properly. Be sure to check that your air vents are open and not covered by furniture or other items.
If you have checked off all of these items and you are still experiencing problems, give us a call at 614-475-1800 or schedule online HERE for 100% relief!