Wondering How The HVAC Installation Process Works? Read Below To Find Out!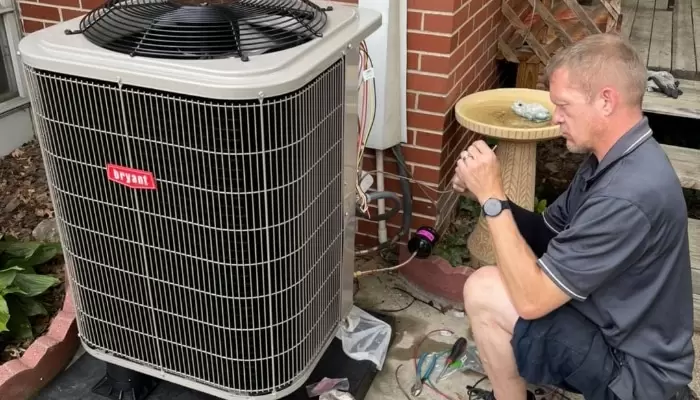 A project manager will come out to assess your home, as well as educate you on your furnace or AC replacement options to help you make the best decision.
You are able to then schedule the installation appointment when it is most convenient for you.
Preparation for the installation includes items such as protecting your home with drop cloths and other floor protection as well as wearing shoe covers to prevent dirt from entering your home.
We will then carefully remove your old system and all of its associated components.
Our technicians will install your new equipment and support systems, including all gas piping, wiring, duct transitions, and venting.
We will then conduct a thorough test of the entire system using a 20-point inspection routine to ensure your system is operating at maximum efficiency and comfort.
We will walk you through how to operate your new system and thermostat, as well as show you how to change any filters. The system's user guide will be placed in a packet with other information attached to your furnace.
Your new installation is 100% covered for the first year, if any issues arise due to the installation, we will come out and fix it at no cost to you. After the first year expires, you have the option to join our annual service club to extend your labor warranty for up to 10 years. This also includes routine maintenance on both your furnace and air conditioner.
What is included in a standard installation of a home AC unit?
A standard installation of a home AC unit typically includes the following:
Removal of the old unit (if necessary)

Installation of the new condenser unit and evaporator coil

Installation of a new refrigerant line set and electrical wiring

Placement of a new concrete pad for the condenser unit (if necessary)

Connection of the new unit to the ductwork and thermostat

Testing the system for proper operation and refrigerant charge

Cleaning up the work area and disposing of any debris or old equipment.
It's important to note that installation requirements can vary depending on the specific unit and the layout of your home, so it's always best to consult with a licensed HVAC professional for a detailed estimate and scope of work.
How much time does it take for a home AC installation?
The amount of time it takes to install a home AC unit can vary depending on several factors, including the size of the unit, the complexity of the installation, and any unexpected challenges that may arise during the process. In general, a standard installation of a central air conditioning unit typically takes between one to three days to complete. However, larger or more complex installations may require additional time.
How do I prepare my home air conditioner for installation?
Here are a few things to help you prepare:
Choose a location: Decide on a location for the new unit. It should be in a shady area away from direct sunlight and obstructions.
Clear the area: Remove any obstructions, debris, or plants around the installation site.
Check the electrical panel: Make sure the electrical panel has enough capacity to handle the new unit's power requirements.
Check the ductwork: Inspect the existing ductwork for leaks or damage that may need to be repaired before the installation.
Clear access: Make sure the installation area is easily accessible for the installer. Clear any clutter or furniture around the area.
Turn off the power: Turn off the power to the existing AC unit before the installation.
Secure any pets: Keep any pets secure and out of the way during the installation process.
See? Simple. Ready To Get Started?
If you're already set for an installation or just need a no-obligation estimate, give us a call at 614-475-1800 or contact us online today!